Tell us a little bit about yourself and your family
Hullo, I'm Lucie. I live with my partner Mark and two children, Eloise 4 (& the all important 3/4) and Oliver 2. We live in Keynsham, a town squeezed between Bristol and Bath. I'm a packaging and branding designer.
What are your children's favourite books?
Oliver's favourite book is 'Ten Little Pirates' by Mike Brownlow and Simon Rickerty. Each pirate peril is met with an "Oh NO!" and we are guaranteed an arm swooshing "Arrrrr" at the end followed by "again Mummy!"
It's really hard to pin Eloise down to just one favourite book, she won't go to bed without at least an armful to read, but at a push it would be something written by Julia Donaldson.  She knows them off by heart and can be regularly heard reading them to her favourite soft toy, Rosie.
Which book do you most like reading to them?
I love to read Oi Frog!, by Kes Gray and Jim Field. I just adore the cat's sense of humour, the joy of language and the silliness of the illustrations. Eloise will always point out the Ape is eating the grapes and the final page never fails to make us smile.
Who is your favourite children's author?
I'm guessing this will be a popular choice, but growing up Roald Dahl was my favourite.  His sense of humour and unfailing trust that children could handle the darker side of life really caught my imagination. I've recently read both The Giraffe And The Pelly And Me and me and The Twits with Eloise and they still make me smile, I know I'm going to enjoy sharing more with the children.
Who is your favourite illustrator and why?
I don't think I can choose between Jim Field or Oliver Jeffers, both are so stunning, fresh and original. I love the attention to detail in Jim Field's illustrations and the tones and simplicity of Oliver Jeffers work.
What do you look for when shopping for a new book for your child?
I go in search of plucky characters, who show determination and grit, like the mouse in The Lion Inside by Rachel Bright and our plucky froggy hero, Sir Lilypad by Anna Kemp.
Do you have a favourite children's bookshop?
I love a trip to Mr B's in Bath. It always has a really brilliant mix of books from the obvious to the more unknown and you can tell they have been selected with care. It has chairs for the little ones to settle in while they make their book choice and some cosy armchairs upstairs. I'm hoping for a child free day sometime to give them a try!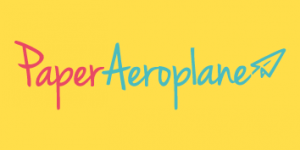 About Paper Aeroplane Creative
I created Paper Aeroplane because I love to help small businesses tell their story through great packaging and branding. I want every small business to feel proud of their brands.  I'm really curious and I love finding out about new products or services by designing them and I adore the passion my clients have about what they do. People doing stuff they love makes for a happier world.
www.paperaeroplanecreative.co.uk
Follow us on Facebook and Instagram