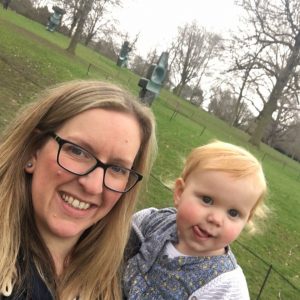 Tell us a little bit about yourself and your family
I'm Elinor, maker of children's clothes and mother of four, based in Leeds. My eldest is all grown up now at 19, and my young ones are 5, 4 and 14 months.
What are your children's favourite books?
My 5 and 4 year old adore the whole Oi Frog series by Kes Gray. They howl with laughter every time, and they can recite them now too as we've read them so often. We love the rhymes and it's been great for widening their vocabulary. When we meet new people, they want to find a rhyme to see where they would sit!
The baby often reaches for her Busy Books, particularly Busy Garden and Busy Park by Rebecca Finn – they are really robust in rough little hands, with moving parts on each page and often an opportunity for "Peekaboo". She also loves Each Peach Pear Plum, which is her bedtime story, just as it was for her 19 year old brother all those years ago. It's a family favourite to be honest, and she's now pointing to the characters as we go through the story. Reading the same book at every bedtime is a lovely part of our routine, a nice sleep cue, and forces us to find something new to talk about each time.
Which book do you most like reading to them?
My favourite books to read with them have a good rhythm and a healthy dose of silliness – You Can't Take An Elephant On The Bus by Patricia Cleveland-Peck is a good example of my kind of thing. I'm not very good at reading in accents, but being indignant or outraged is really good fun. It's also a great one for showing how you read with intonation. We've just bought the sequel and I can't wait to get stuck in.
What would you like to see more of in kids' books today?
I would like the books my children read to show more of the society we don't see, so some real diversity that isn't reflected in the community where we live. Different types of families, cultures, lifestyles and so on, including urban and rural settings too, both here and abroad. Books give us such an opportunity to explore, like a window to the rest of the world.
Do you have a favourite children's bookshop? What makes them great?
I love The Little Bookshop in Chapel Allerton, Leeds. It's my go to shop to find gifts for children as I can just sit on the floor and flick through their huge range of beautiful books and find something I'd never have found online or in the city centre bookshops. They also have a cafe and story sessions. What more do you need?!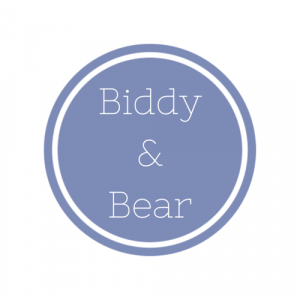 About Biddy and Bear
Elinor runs Biddy and Bear from an attic bedroom in her home in Yorkshire. She was inspired to make fun, comfortable clothing for little ones following disappointment while searching the high street for clothing for her own four children.
All items are lovingly made from delicious handpicked fabrics, with a focus on fun and unisex prints. The full range online includes dresses, skirts, dungarees, leggings, and reusable wipes for sticky hands and faces.
See more here:
http://www.facebook.com/biddyandbear
http://www.instagram.com/biddyandbear