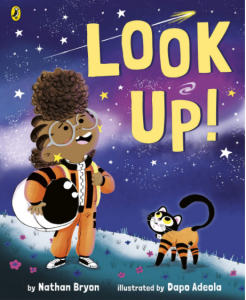 Rocket is a little girl with a big passion. She loves to gaze at the night sky and when she grows up she wants to be "the greatest astronaut, star-catcher, space-traveller who has ever lived". Every day, she pops on her tiny replica spacesuit, dons her star-shaped earrings and dreams of the day she can follow in the footsteps of her hero Mae Jemison, the first African-American woman in space.
The problem is that whilst she is looking up, everybody else seems to be looking down. She wants her brother to be as excited about the upcoming meteor shower as she is, but his eyes are permanently glued to his phone.
Determined to drum up some interest in this exciting event, Rocket creates flyers to distribute around her neighbourhood and even grabs the microphone at her local supermarket to make an announcement. She wants everyone to gather in their local park to view the meteor shower together  – but has she done enough to get the community to join together and look to the skies?