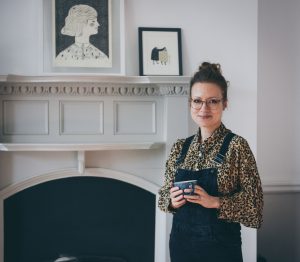 Tell us a little bit about yourself and your family.
I'm Sarah – juggler of two kids aged 6 and 3, founder/designer of Cub & Pudding – my unisex kidswear brand (named after the mini's baby bump nicknames) and wife to a Graphic Designer who came south to uni from Bolton and hasn't left yet. We live in Crystal Palace where we spend half our time proclaiming its amazement and the other half cursing & vowing to escape London to the coast somewhere.
What are your children's favourite books?
Urgh. I'm going to forget Peppa Pig books exist and bypass them to instead mention The Something by Rebecca Cobb. It's the story of a mysterious hole appearing the garden and wondering what 'The Something' is that might live down it.. a dragon? a mole? a hungry troll?
My daughter is fascinated by the fact that "Daddy doesn't like frogs" in the book and loves guessing what else might live there or in any mystery hole we might find in our garden too. As with all the best children's books – it's sparking her imagination that makes it a winner.
My eldest conforms to every male child stereotype, despite no nudging in that direction, and adores transport and animal books.
He's got an epic collection of books (a lot bought by me simply because I've fallen in love with the illustrations first and foremost). He's particularly loving
Animalium
and Map of Adventures – beautify fact-filled tomes which educate and engage school-aged minds to discover and explore
Which book do you most like reading to them?
Peepo by Janet & Alan Alberg (closely tied with Each Peach Pear Plum).
There are some very popular children's authors I don't enjoy reading on repeat because of the rhythm of the prose, but something about the Alberg's writing is such a pleasure to read. I love that Peepo is set in another era – but my kids don't notice the differences. The simplicity and beauty of their daily routine is a joy to narrate.  I don't think there's any particularly deep and meaningful message to the book but the fact it conveys a snippet into another family's day, some 50 plus years ago, is a delight all by itself.
What was your favourite book when you were a child?
The Owl Who Was Afraid of the Dark – I loved the naivety of Plop and also all the people he meets along the way who give their own reasoning why, if anything, the Dark was wonderful. I still have my battered copy to read to my kids..
Who is your favourite illustrator?
Children's illustration is a huge passion of mine – it's the inspiration behind the majority of prints I design for Cub & Pudding. I can't pick just one – if you don't know these already then go seek Lizzy Stewart, Helen Stephens, Alain Gree, Claudia Boldt, and Rebecca Cobb.
Do you have a favourite children's bookshop?
Smallprint Books in Forest Hill is one of a kind. It's a beautiful, inspiring space devoted entirely to books for children of all ages. Jenny, who owns it, has a genuine passion for children's literature and also runs workshops there with children's authors. She sells online for anyone not lucky enough to be SE London-based.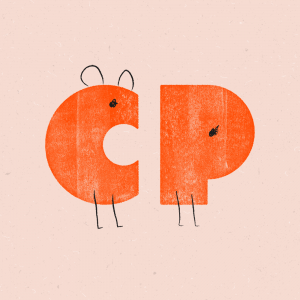 About Cub & Pudding
Cub & Pudding was founded by Sarah Birchall — a frustrated City PA pondering how her maternity cover pitstop from features journalism had turned into a 9-year corporate comfort ride. Bemoaning the lack of creativity in her life, she was spurred by the time spent adding to her son's haul of printed leggings and a chance meeting with a career coach to start her own kidswear range.
Cub & Pudding — the names of both her kids' baby bumps –  is inspired on Sarah's love of illustration and wordplay. The collection is designed at home in London with quirky, naive prints to appeal to those with a love of bold and tasteful wares for kids of both sexes.