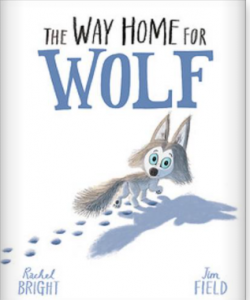 We were lucky enough to receive an advance copy of this lovely new story which is out today in the UK and we've been looking forward to sharing it with you. We're big fans of Rachel Bright and Jim Field's previous collaborations ('The Lion Inside' is in our all-time top five!) and fortunately this new title is just as good!
The heartwarming tale is about a little wolf cub called Wilf who is extremely strong-willed and independent. He wants to do everything by himself and he wants to do it right now – which will sound very familiar to any parent with a toddler!
When his wolf pack is forced to leave their cave, Wilf wants to lead the expedition to find a new home. But the little wolf soon discovers that life in the wilderness is much tougher than it looks and he finds himself lost in a storm. Too proud to call for help he sits alone on the ice, which at that very moment begins to crack. It looks as though all hope is lost but then a friendly face appears from the depths.