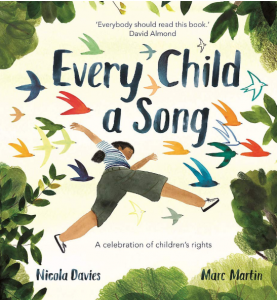 Written for the thirtieth anniversary of the United Nations Convention on the Rights of the Child (UNCRC), this beautiful book celebrates the worth of every child.
Using the metaphor of song, the story shows us how every child is unique and brings something new and wonderful to the world.
At the start of the book we see a newborn baby bring a new song in to existence. That song is nurtured with love, shelter, protection and a sense of belonging. Afforded these basic rights, the song soars and explores. On its journey it finds new songs – some loud and some quiet, and some long and some short – but each wonderful in its own way.