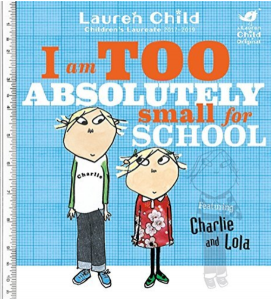 If your child is nervous about starting school then this reassuring story might be just the thing you're looking for – especially if they are fans of the Charlie and Lola cartoon.
Little Lola is about to start school but she really, really, really doesn't want to go. Although she is a big girl she's definitely too small for such a big change, plus she has so many important things to do at home that she doesn't think she'll have time. Lucklily, big brother Charlie is on hand to try and change her mind.
If she can only count to to ten, what will she do if eleven elephants want her to give them each a biscuit? If she doesn't learn her alphabet then how will she write a letter to Father Christmas? And if she doesn't learn to read, then how will she be able to understand the secret messages written on the fridge?