Hi Anna! Tell us a little bit about yourself and your family
Hi, I'm Anna and I live in Clapham, London with my husband, Greg and our two children, Charlie who's two years old and Sophia who's two months old.
Alongside my mum, Daphne, I am a co-founder of Offshoot Studio, an art studio specialising in handmade limited edition archival giclée prints for children. Mum is the artist and I run the studio.
The natural world is a huge source of inspiration in the studio. It's endlessly fascinating and appealing to mum, and we think to most children too. Our prints are illustrations to stories waiting to be told.  Things are happening up in the sky, deep in the jungle, out in the desert, and under the sea.  All it needs is a little imagination, and a child wanting to hear or tell their own special story. Our prints let you escape into their world together …
What is your son's favourite book?
ANNA: It's hard to choose just one book! Charlie loves anything with adventure, quirky characters, construction vehicles and rhyming text. It's not surprising that his three favourite books are full of those things. A classic, Where the Wild Things Are by Maurice Sendak, is an all-time favourite. We read the copy I had when I was little.  One night, Max puts on his wolf suit and makes mischief of one kind and another, so his mother calls him 'Wild Thing' and sends him to bed without his supper. That night a forest begins to grow in Max's room and an ocean rushes by with a boat to take Max to the place where the wild things are. Max tames the wild things and crowns himself as their king, and then the wild rumpus begins! But when Max has sent the monsters to bed, and everything is quiet, he starts to feel lonely and realises it is time to sail home to the place where people love him the most. Charlie loves the 'escapade' that Max goes on and definitely identifies with his mischievous nature. It's total escapism for kids!
Olivia by Ian Falconer appeals to Charlie's energetic side. It follows the adventures of a turbo-charged girl piglet named Olivia who is into EVERYTHING! Charlie races around pretending to be Olivia, trying out lots of new things. I love the references to the famous Degas and Pollock artworks, and the clever dual humour both for kids and adults. Ian Falconer's illustrations are fantastic and just as engaging for children as they are for adults.
Tidy by Emily Gravett is about a badger called Pete, who likes everything to be neat and tidy. But sometimes he just doesn't know when to stop and takes some extreme measures when cleaning his forest home. It combines everything that Charlie loves about books. It's a charming read which explores our desire to control nature and our surroundings. Packed with rhyming couplets it has a great read-aloud feel to it. Emily Gravett's illustrations are gorgeous and endearing whilst the story sends out an important message – we must appreciate and enjoy the true beauty of nature without feeling the need to control it. Oh, and Charlie's loves the cut-out 3D cover!
Which book do you most like reading to him and why?
ANNA: It has to be Tyrannosaurus Drip by Julia Donaldson – a brilliantly funny take on the ugly duckling story, all about celebrating difference. Everyone knows that Tyrannosauruses are big and scary, so when a placid Duckbill dinosaur's egg ends up in the wrong nest, confusion ensues! When the baby dinosaur hatches out, he's so out of place that his grisly big sisters call him Tyrannosaurus Drip. However, Drip manages not only to find his duckbilled compatriots, but also to dispatch the whole savage T-family and can now happily spend the rest of his days eating water weeds and being treated as a hero by other Duckbills. I love the cleverness and determination of Drip. Donaldson's rhythmical and supremely readable-aloud verse makes it an absolute pleasure to read. David Roberts' gorgeous illustrations match the spirit of the text perfectly; slightly surreal but very dynamic, with enough detail to engage and no pretence at being sweet at all!
I also love reading Charlie any of the Oi Frog, Oi Cat and Oi Dog collection by Kes Gray. Cats sit on mats, hares sit on chairs, mules sit on stools and gofers sit on sofas, but Frog does not want to sit on a log! Jam-packed with animals and silliness, this rhyming story has Charlie in fits of laughter. Jim Field's fantastic illustrations and Gray's easy to recite rhymes make it a really fun book to read. Charlie waltz's around the place making up his own rhymes based on Gray's.
What was your favourite book when you were a child?
ANNA: The Worst Witch series by Jill Murphy. These eight books are all set at Miss Cackle's Academy for Witches, and follow the magical mishaps of the heroine, Mildred (the worst witch!) and her best friends, Maud Spellbody and Enid Nightshade. Mildred isn't particularly talented, she's actually very bad at magic and leaves well-meaning havoc in her wake everywhere she goes. Yet every adventure she finds herself on, she ends up performing some heroic deed that helps other people. I loved Mildred's spirited nature and the good versus evil message. I guess as a young girl, Mildred was probably pretty inspirational and gave me a female protagonist to identify with! I also loved Murphy's pen-and-ink illustrations, they are full of personality – the tabby kitten splayed out on the end of the broomstick with its eyes closed, hanging on for dear life, still cracks me up!
Daphne! You are Anna's mum. What was your favourite book to read to her when she was a child?
DAPHNE: I loved reading Miss Jasper's Garden by N M Bodecker.  It's the story of a short-sighted elderly lady who lives alone, tends her garden by the sea and inadvertently sows flower seeds on a hedgehog's back. It message is about caring for others and companionship.  It's an enchanting story with a happy ending, beautifully illustrated and with a lovely map too.  I love maps!
Have you read this same book with your grandson Charlie?
DAPHNE: I haven't read Miss Jasper's Garden to Charlie, but I will as soon as I can get a copy! Happily, it's still available. I'm always reading him Each Peach Pear Plum and Cops and Robbers, both by Janet and Allan Ahlberg – books that Anna adored, and Charlie does too.  Anna loved the rhyming text in Each Peach Pear Plum as well as spotting the hidden characters. She found the larger-than-life robbers in Cops and Robbers hilarious, and always sang along with, 'Ho ho for the Robbers, the Cops and the Robbers, Ho Ho'! Charlie has the exact same reactions that Anna did – perhaps a testament to the timeless appeal of the books. When a book is fun, and a pleasure to read aloud, with illustrations that are full of extra details to explore and delight in, it's always going to be a favourite.
Having read picture books with both your daughter and your grandson, how do you think stories have changed over the years?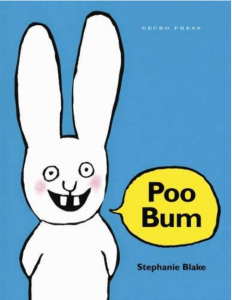 DAPHNE: There was less choice of books for children back in the 80's, but there were far more local bookshops. We had two on our local high street when Anna was small, now there are none and browsing on the internet just doesn't offer the same pleasure as browsing in a good bookshop.
However, the books available now are fantastic, with imaginative stories and some really brilliant illustrations! Generally, I would say there is a much higher standard and bigger interest in children's books these days. I've noticed some books are rather 'preachy', and work hard at getting a definite message across. There is certainly, and rightly, more expectation now for political correctness and inclusivity in the books. I don't think we worried much about the messages our children were getting, if the book was fun to read, that's what counted. Noisy Nora by Rosemary Wells was fun and a favourite with Anna. The book is about a middle child mouse that's driven to extremes to get the attention she wants. We all loved it and thought it very funny and sweet, but now it could be seen as an example of appallingly bad parenting! However, I don't think today's more earthy books like Poo Bum by Stephanie Blake or The Story of the Little Mole Who Knew it Was None of His Business … by Werner Holzwarth, two of Charlie's all-time favourites, would have been published  40 years ago as they would have been considered rather shocking and inappropriate, despite actually being very funny and sweet.
Who is your favourite children's author?
ANNA: Roald Dahl. I think he's one of the greatest storytellers for young children. His stories are witty, authentic and original. He once said, "I have a passion for teaching kids to become readers … Books shouldn't be daunting, they should be funny, exciting and wonderful." I couldn't agree more!
DAPHNE: Julia Donaldson because of her humour, simplicity, originality and warmth.
Who is your favourite illustrator?
ANNA: Quentin Blake. His instantly recognisable scratchy, angular work is full of movement, carefree, quick and easy-going, but at the same time warm and very funny.  I imagine that, secretly, he has a magic pencil which lets him defy the limits of the visual by evoking sound: saucepans crash, birds screech, flutes toot – he can bring a page alive.
DAPHNE: It's too hard to choose just one! My top four are Edward Ardizzone, Maurice Sendak, Michael Foreman, and Eric Carle. They are all are very original and have great drawing abilities which allow them to can create memorable images for children. Their pictures are often very simple, but always spot on.
What do you look for when shopping for a new children's book?
ANNA: Three things: An engaging story, equally engaging illustrations and something that is going to appeal to Charlie at that point in time.
DAPHNE: First of all, a great story or idea. Originality and quality in the writing and the illustrations are also key. The overall design of the book is really important to me too – everything that makes a book a pleasure to handle and to read.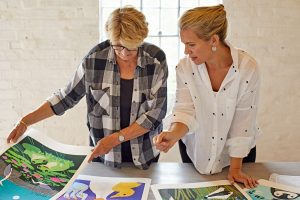 About Offshoot Studio
We're an art studio specialising in handmade limited edition archival giclée prints for children. We believe children deserve good art that inspires their imaginations and ignites some forever lasting memories. We see our prints as a new kind of heirloom that can be passed down generations.
All of our prints can be personalised and each one contains a hidden heart. It's a little token to show that the picture was made with love. We hope it will be loved for a long time to come.
Our prints are designed, produced and printed in Yorkshire, England. We use using the highest quality archival paper (Hahnemuhlë Photo Rag 308 gsm, 100% cotton acid-free) and highest quality giclée inks to ensure the print can be enjoyed for years to come.
Each print is limited to an edition of 50, hand signed and numbered by Daphne.
Instagram: @offshootstudio
Facebook: @offshootstudio1