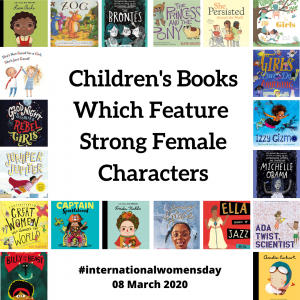 March 8th 2020 is International Women's Day so I have collated a list of our favourite books which feature strong female characters. Take a look and let us know in the comments if there are any others which you think should be included!
Fiction Books
Ada Twist, Scientist by Andrea Beaty & David Roberts – Little Ada's endless need to question everything means that she is the perfect mini scientist. She devises experiments and builds hypotheses, trying to work out how the world around her works. Read the review.
Amazing Grace by Mary Hoffman & Caroline Binch – An uplifting story is about a little girl called Grace who loves stories and has a big imagination. Can she find the confidence to follow her dreams? Read the review.
Billy And The Beast by Nadia Shireen – This book has all the right ingredients for a great children's story – a feisty female protagonist, a feline sidekick, a scary monster and a whole host of adorable woodland animals! Read the review.
Captain Sparklebeard by Timothy Knapman & Sam Lloyd – This fab story has a strong female lead, a fantastic pirate adventure and a really solid lesson on how reading books and educating yourself will help you get ahead in life. Read the review.
The Girls by Lauren Ace & Jenny Løvlie – This is the story of four little girls who find friendship under an apple tree. Despite having very different personalities, they share stories, adventures and scraped knees, forming a bond that will last a lifetime. Read the review.
Izzy Gizmo by Pip Jones & Sara Ogilvie – We love strong-willed little inventor Izzy and the fact the story highlights the importance of being comfortable with failure. Every time Izzy's inventions go wrong she learns something new. Read the review.
Juniper Jupiter by Lizzy Stewart – Juniper Jupiter is a superhero. She's kind, brave, smart and speedy. She can even fly! She doesn't think it's a big deal though – it's just who she is. She's just an ordinary little superhero who lives with her family and her dog, Peanut. Read the review.
The Princess And The Pony by Kate Beaton – Princess Pinecone teaches us that you don't have to be the biggest, strongest or loudest to win the day. We all have our own skills to bring to the table and sometimes the ones we least expect are the most powerful. Read the review.
She's Not Good For A Girl, She's Just Good! by Suzanne Hemming & Jacquie Hughes – The star of this story is a sporty little girl called Florence who sets out to prove to her classmate Frank that girls are just as good as boys. Read the review.
Zog by Julia Donaldson & Axel Scheffler – This is one of our favourites from Julia Donaldson. The story features a kindly dragon called Zog and a Princess who would rather be a Doctor than flounce around in a ballgown. Read the review.
Non Fiction Books
The Brontës: The Fantastically Feminist (and Totally True) Story of the Astonishing Authors by Anna Docherty – A fascinating look at the lives of  Charlotte, Emily and Anne Bronte and how they overcame the odds to become world-renowned authors. Review coming soon.
Ella, Queen of Jazz by Helen Hancocks – The amazing story of the friendship between Ella Fitzgerald and Marilyn Monroe, and how they supported one another and helped each other rise. Read the review.
Fantastically Great Women Who Changed The World by Kate Pankhurst – Discover the individual stories of the women who helped shape the world we live in, including Emmeline Pankhurst, Anne Frank, Mary Seacole and Sacagawea. Review coming soon.
Girls Can Do Anything! by Caryl Hart & Ali Pye – A joyous and colourful book which boosts self esteem and encourages girls to follow their dreams. Review coming soon.
Goodnight Stories For Rebel Girls by Elena Favilli & Francesca Cavallo – An inspiring anthology of over 100 stories featuring amazing women from around the world, including Ada Lovelace, Malala Yousafzai and Serena Williams. Review coming soon.
Little People, Big Dreams: Amelia Earhart by Maria Isabel Sanchez Vegara & Maria Diamantes – A beautifull illustrated book which takes a look at the life and times of Amelia Earhart. Read the review.
Little People, Big Dreams: Frida Kahlo by Maria Isabel Sanchez Vegara & Gee Fan Eng – A look inside the inspiring life story of one of my favourite female icons. Read the review.
Little People, Big Dreams: Rosa Parks by Lisbeth Kaiser & Marta Antelo – The perfect introduction to the life of Rosa Parks, which shows how one person can help bring about great change. Read the review.
Michelle Obama: The Fantastically Feminist (and Totally True) Story of the Inspirational Activist and Campaigner by Anna Doherty – An in-depth look at the legend who is Michelle Obama. Review coming soon.
She Persisted Around The World by Chelsea Clinton & Alexandra Boiger – Featuring the stories of 13 inspiring women, the aim is to show little girls that whoever you are and wherever you live you can achieve their dreams and help change their world. Read the review.