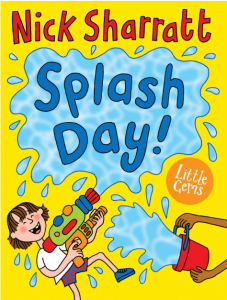 Class One have worked really hard all year so the teachers have decided to reward them with a special treat – a Splash Day! When the children arrive, dressed in swimsuits, trunks and wet suits, the school playground looks very different to usual. There are buckets, sand trays, crates and washing up bowls everywhere, and each one is filled to the brim with water.
Anticipation rises when the teachers appear. Taking no chances they are armed with rain coats, shower caps and wellies! Mrs Thistle lays down a few ground rules before she blows her whistle and then the children are off. They splish, splash, splosh and spray until the whistle sounds again.
But just as they are reaching for their towels, Mrs Rose appears with a hose. She wouldn't, would she?