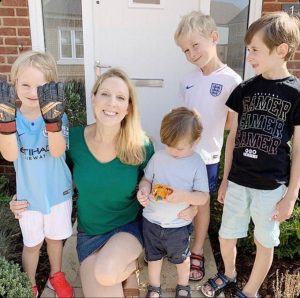 Tell us a little bit about yourself and your family
Hi, I'm Jess and I live in Tonbridge, Kent with my lovely husband and our four sons Gabriel (8), Flynn (7), Theo (5) and Jude (2).  I work as a social media manager and when the boys aren't keeping me busy I blog about family life with my boys at abouttheseboys.co.uk.
What are your sons' favourite books?
Books are a huge part of our lives and we have them everywhere!  Gabriel and Flynn have grown out of picture books so I'm spending as much time as possible reading them to Theo and Jude, as I know how quickly this special time will go.