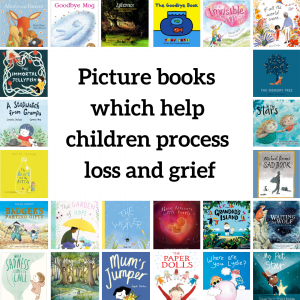 In recent months I have seen a sharp increase in the number of messages and emails I receive from parents asking me to recommend books to help children cope with a bereavement.
There are many stories out there which offer great comfort and encourage children to talk about their loss and how it makes them feel, but trying to find the right one for your child when you are dealing with your own grief can feel like an enormous task.
Here is a list of the 24 books which I would recommend. I hope you find it helpful, and please do share it with friends and family who you think may need it.
I think it's important to specify here that my area of expertise lies with picture books and not with grief counselling. Both Child Bereavement UK and Winston's Wish offer fantastic support for children who have suffered a loss so please contact them if you require support. 
Always and Forever by Alan Durant & Debi Gliori – This is the book I recommend most often as it is warm and reassuring. When Fox dies his friends are consumed with sadness but when they begin to share stories of his life they realise that he will always live on in their memories. Read the review.
Badger's Parting Gifts by Susan Varley – When Badger dies, his friends share special memories and realise that he has given each of them a gift and changed their lives for the better. Read the review.
The Garden of Hope by Isabel Otter & Katie Rewse – Maya's house feels different without her Mum. But when her Dad gives her some packets of seeds she creates a beautiful garden in her memory which ultimately gives her hope for the future. Read the review.
The Goodbye Book by Todd Parr – This simple and colourful story about a fish helps children understand and process their feelings of grief when they are separated from someone they love. Read the review.
Goodbye Mog by Judith Kerr – Most people are familiar with the series of books about Mog, but did you know that in one of the last books written about her, she dies? Written to help children work through feelings of grief and loss, this is a touching story about the death of a much-loved pet. Read the review.
Grandad's Island by Benji Davis – Syd and his Grandad travel to a magical island filled with all of their favourite things. They build a shack, swim in a waterfall and have a lovely adventure, but when it is time to go home Syd has to leave Grandad behind. Read the review.
The Heart and the Bottle by Oliver Jeffers – When her grandfather dies, a little girl takes out her heart and places it in a bottle which she wears around her neck. Her heart is safe but, unable to express how she feels, the girl finds herself in emotional limbo. Read the review.
If All the World Were… by Joseph Coelho & Alison Colpoys – A book is about loss which is a true celebration of life – a love letter to the beautiful relationship between children and their grandparents everywhere. Read the review.
The Immortal Jellyfish by Sang Miao – This whimsical and beautifully illustrated story offers children hope at a difficult time and reassures them that their lost loved one will always live on in their memories and dreams. Read the review.
In the Stars by Sam Kitson & Katie Faithfull – This beautiful book, published by SANDS – the Stillbirth and Neonatal Death Charity, is designed to help small children work through their grief after the loss of a sibling. The book follows a conversation between Minnie and Moss as they contemplate where in the universe their sister might be. Read the review.
The Invisible String by Patrice Karst & Joanne Lew-Vriethoff – This wonderful picture book teaches children about the unbreakable bond we have with the people closest to us, whether they are near or far. Read the review.
Lifetimes by Bryan Mellonie & Robert Ingpen – This non-fiction book talks about death as a natural process which is a part of life. It teaches children that all living things have a beginning and an end, and in between they live their lifetime. Read the review.
The Magical Wood by Mark Lemon & Maia Walczak – The wood is a beautiful place which is home to a family of trees. One night there is a terrible storm and when the tree family wake up they discover that the Strongest Tree has fallen in the night. As they move through the seasons, they slowly learn to live with their great loss. Read the review.
The Memory Tree by Britta Teckentrup – After losing Fox, the woodland animals sit in a circle and talk about their wonderful friend. As they talk, something special starts to happen in front of their eyes. A tiny tree shoot, the same shade of burnt orange as fox fur, pushes its way up through the ground. Read the review.
Michael Rosen's Sad Book – by Michael Rosen & Quentin Blake – Written after the death of his son from meningitis, this non-fiction book features Michael Rosen's musings on loss, sadness and processing grief. Review coming soon.
Mum's Jumper by Jayde Perkin – This sensitively-written story traces a young girl's journey as she works through her grief after losing her mum. Her dad uses a wonderful analogy to explain how, although her grief feels too big now, one day it will fit her and feel like a manageable part of her life. Read the review.
The Paper Dolls by Julia Donaldson & Rebecca Cobb – A little girl makes a set of paper dolls with her mum and together they have many adventures – until one day they encounter a little boy with a pair of scissors and suddenly the dolls are no more. Read the review.
My Pet Star by Corrinne Averiss & Rosalind Beardshaw – A little girl finds a fallen star and gently nurses him back to health. When the star begins to shine brightly, the girl knows that it is time for him to leave her and return to the sky. But how can she ever let him go? Read the review.
A Stopwatch from Grampa by Loretta Garbutt & Carmen Mok – When the little boy in this story receives his Grampa's stopwatch he is overcome with grief. Grampa is gone and he doesn't want this little reminder of all the fun they used to have together. Read the review.
These Precious Little People by Frankie Brunker & Gillian Gamble – When a baby dies the focus is very much on the grieving parents, but often there are young siblings who will struggle to understand why the baby brother or sister they were expecting didn't come home. Read the review.
Waiting for Wolf by Sandra Dieckmann – Fox and Wolf are the best of friends and do everything together – but then one evening, as the sun sets and the stars come out, the old Wolf wraps a paw around Fox's shoulder and tells him that tomorrow he will be starlight. Read the review.
The Weaver by Qian Shi – Stanley the Spider finds the perfect spot for a new web and sets about weaving himself a home however when he has finished the rain washes it away. This story teaches children that nothing you love can ever truly be lost as you always carry it with you in your heart. Read the review.
When Sadness Comes to Call by Eva Eland – Although not specifically about loss, this poignant and beautifully illustrated book shows children the transient nature of big emotions like sadness and why it is always best to address your feelings. Read the review.
Where are you Lydie? by Emma Poore – This story about sibling loss follows two young boys, Henry and George, as they try to decide what they should do on what would have been their sister Lydie's first birthday. Read the review.
If you have any recommendations not listed above then I would love to hear from you in the comments below.