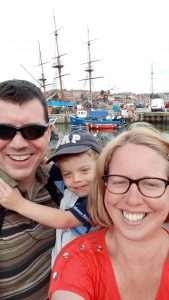 Tell us a little bit about yourself and your family
Hello I'm Ruth, and I live in Edinburgh with my husband and my four year old son Arran.  I've been self employed now for eight years providing research services for charities, and these days I run my business flexibly around Arran's pre-school needs. Edinburgh is an arts and cultural hub and we do our best to take advantage of the various festivals and events that run here throughout the year.
What is your son's favourite book?
There's a lovely series of books based on TS Eliot's Old Possum's Book of Practical Cats with illustrations by Arthur Robins, and we have the five that have come out so far.  We have read them all many times and our favourites are Skimbleshanks (the railway cat) and Mungojerrie and Rumpelteazer (the cat burglars).  We enjoy the interesting rhymes and beautiful pictures, and also the opportunity to listen to the songs in the car based on Andrew Lloyd Webber's musical.  I can't wait to take Arran to see Cats at the theatre some day!