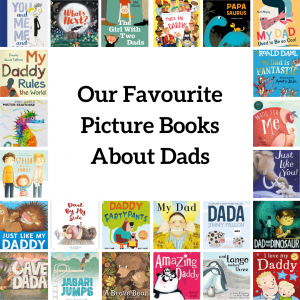 Sunday, June 21st 2020 is Father's Day in the UK, so to celebrate we have put together a collection of our favourite books about Dads.
It's a varied list which includes books which make great gifts, bedtime stories with strong father figures and even some beautiful poetry.
We have dads of many different races, bearded dads, gay dads, tattooed dads, animal dads, flatulent dads and if you look closely you'll even spot a book with a pregnant dad  (spoiler: he's a seahorse – but still!).
We'd love to hear about your favourites too. What would you add to this list?
Amazing Daddy by Rachel Bright – Follow a Baby Panda and her daddy as they go through their day. To an observer, nothing they do is extraordinary – they eat, they play, they have a bath – but to the baby panda every little moment is special because she gets to spend it with her Daddy. Read the review.
And Tango Makes Three by Justin Richardson, Peter Parnell & Henry Cole – This gorgeous classic tells the true story of two very special male penguins at Central Park Zoo. When the Zookeeper spots their budding relationship he gives them an abandoned egg and watches as they  start their journey towards becoming two loving dads. Read the review.
A Brave Bear by Sean Taylor & Emily Hughes – When a baby bear and his dad set off to cool down in the river they're expecting a day of adventure but the baby bear tries a little too hard to impress and end ups hurting his knee. Fortunately Daddy Bear knows just what to do to soothe his child's injury, and also his ego! Review coming soon.
Cave Dada by Brandon Reese – After a hard day of hunting and gathering Cave Dada is looking forward to putting his feet up – but his little baby has other ideas. He wants his father to read him a story and he's not going to stop crying until that happens. But 'books' in the stone age are a tiny it heavy and not that portable… Read the review.
Dad And The Dinosaur by Gennifer Choldenko & Dan Santat – Nicholas wants to be fearless just like his Dad. He has a toy dinosaur which makes him feel brave but he loses it and becomes inconsolable. When he confides in his father, his dad explains that everyone is scared of something and that it's ok to ask for help to confront your fears. Review coming soon.
Dad By My Side by Soosh – This beautifully illustrated book is a celebration of the special bond between a father and child. It follows a tiny little girl and her larger than life dad as they go through life side by side. Review coming soon.
Daddy Fartypants by Emer Stamp & Matt Hunt – Daddy Fartypants has a problem – he farts ALL THE TIME! And what's worse is that he never owns up.  Every time he does a bottom burp he blames someone else. It's all a bit too much for his poor son who is embarrassed by both the smell and the white lies. Read the review.
The Girl With Two Dads by Mel Elliott – When Pearl discovers that her new best friend has two dads she can't wait to visit her house. She pictures a tea of cakes and sweets and a household with no rules – but when the day arrives she realises that Matilda's family isn't that different from her own after all… Read the review.
I Love My Daddy by Giles Andreae & Emma Dodd – This colourful rhyming story celebrates the wonder of dads, and there's a great section at the back for your child to note down all their favourite things about their own daddy and even draw a picture. Review coming soon.
Jabari Jumps by Gaia Cornwall – Jabari has just learned to swim, and he is desperate to try jumping from the high diving board. However, when he gets there he isn't quite so sure. Fortunately his dad is on hand to calmly help him work through his fears. Read the review.
Just Like My Daddy by David Melling – Written by the author of the hugely popular Hugless Douglas series, this touching story shows all the ways a little lion cub wants to be just like his big, brave dad. The illustrations however, show us that perhaps dad isn't quite as big and brave as he thinks! Review coming soon.
Just Like You! by Jane Chapman – Piccolo is a tiny woolly mammoth who wants to grow up to be just like her Dad. Together they go on a special journey where she discovers that her tall and mighty dad used to be even smaller than she is! Read the review.
Made For Me by Zack Bush & Gregorio De Lauretis – This ode to fatherhood is an absolute joy and it made me cry the first time I read it. Written in gentle, heartwarming rhyme, the story follows a new dad as he cares for his child from birth through to early toddlerhood. Read the review.
Mister Seahorse by Eric Carle – Seahorses are special because, unlike most animals, it is the male of the species which gets pregnant. This beautiful board book follows Mister Seahorse from conception to birth as he meets a whole host of other sea creatures who are preparing for the arrival of their own little ones. Read the review.
My Dad by Anthony Browne – This is a very personal tribute to the authors father, who passed away when he was a teenager. This gorgeous book looks at all the little details which he remembers about his dad. Review coming soon.
My Dad Is Fantastic by Roald Dahl & Quentin Blake -Most parents of my generation can't wait to introduce Roald Dahl books to their children, and this gorgeous board book all about dads is the perfect primer. Read the review.
My Dad Used To Be So Cool by Keith Negley – As children it can be hard for us to believe that our parents ever had lives before we came along. That's why this book, about a dad who used to be a rock star, is so much fun! Read the review.
My Daddy Rules The World by Hope Anita Smith – This beautiful book of poetry is a celebration of dads everywhere. From dancing and wrestling to bedtime stories and learning to ride a bike, each of the 16 poems highlight the joy of the little meaningful moments we share with our dads as children. Read the review.
Papasaurus by Stephan Lomp – Babysaurus loves to play hide and seek with his dad but one day he can't find him anywhere! He turns to his friends for help but ultimately discovers that Papasaurus was there all along. Review coming soon.
Stella Brings The Family by Miriam B. Schiffer & Holly Clifton-Brown – Stella has two dads. This has never been an issue but when her teacher announces they're going to be throwing a special Mother's Day party she finds herself in a bit of a pickle. She doesn't have a mum so who is she supposed to invite? Read the review.
That's My Daddy by Ruth Redford & Dan Taylor – This diverse and inclusive picture book encourages children to think about all the things which makes their dad unique. Every page poses a question and then the lovely illustrations give your child lots of options to choose from. Read the review.
What's Next? by Timothy Knapman & Jane McGuiness – Baby Badger is extremely curious about the world. He explores every detail and corner of his underground home and then asks his Dad "What's Next?". His Dad explains that there's a whole forest up above them so together they head out in to the dark… Read the review.
You And Me, Me And You by Miguel Tanco -This smartly written book follows a father and his child as they enjoy the small moments of wonder to be found in an ordinary day. The simple pleasures shown in the illustrations are underlined by the minimalist text which, rather cleverly, can be interpreted in two ways. Read the review.
Your Baby's First Word Will Be Dada by Jimmy Fallon – This story follows a range of farmyard fathers as they try to get their children to say 'Dada'. Naturally it doesn't quite go as planned! As the dads say 'Dada' over and over again, the babies all insist on responding with their respective animal sounds. Read the review.