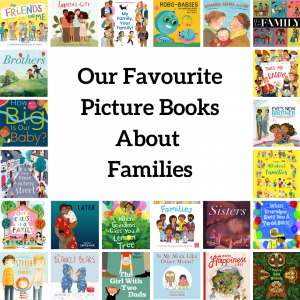 I've had quite a few messages recently from parents and teachers looking for books about different types of families, so I have created a list of our favourites.
There are 24 books in total and they cover a really wide range of family groups and family members. There are books about mums, dads, grandparents, siblings and new babies. There are books with two parents, books with single parents and books with same sex parents. There are also books about adoption and foster care, IVF and surrogacy.
Hopefully every child will see themselves represented within the pages of these stories and they will learn a little about other families too.
We'd love to hear about your favourites too. What would you add to this list?
All About Families by Felicity Brooks & Mar Ferrero – A comprehensive look at different family types from usborne. This book lets children explore questions such as `What is a family?', `What different sorts of families are there?' and more. Review coming soon.
The Blanket Bears by Samuel Langley-Swain & Ashlee Spink – Written by an adoptive Dad, 'The Blanket Bears' follows two little cubs as they go through every step of the adoption process. Read the review.
Brothers by Harriet Evans & Andrés Landazábal – This lovely little hardback celebrates the brilliance of brothers big and small. The gentle rhyme and wonderfully diverse illustrations give us a detailed look at what the world is like with a brother at your side. Read the review.
Our Class is a Family by Shannon Olsen & Sandie Sonke – Family comes in many forms and this beautiful book looks at the bonds which form in the classroom betweens children and their teachers. Review coming soon.
Eve's New Brother by Sheju Adiyatiparambil-John, Judy Skidmore & Anastasiya Epishina – Eve is very close to her two mummies, so when baby Stanley joins the family she isn't quite sure what to expect. Read the review.
Find Out About: Families by Pat-A-Cake & Louise Forshaw – Families come in all shapes and sizes and this little board book from Pat-A-Cake is a great way to introduce this concept to small children. Read the review.
How Big is our Baby? by Smriti Prasadam-Halls & Britta Teckentrup – The prospect of having a new baby brother or sister can be both exciting and daunting for a small child. A new playmate sounds fantastic but where will the baby come from and how will life change when it arrives? Read the review.
Is My Mom Like Other Moms? by Humera Malik –  This super sweet story follows a little girl as she starts to notice the differences and similarities between her mum and the mums of other children in her class. She wonders – does the fact that her mum wears a hijab make her different? Read the review.
Later by Curtis Ackie & Constanza Goeppinger – This beautiful #ownvoices book shows us an ordinary day in the life of one afro-caribbean household. Read the review.
Loretta's Gift by Pat Zietlow Miller & Alea Marley – Featuring a mixed race family and an extended home environment, the story oozes love and warmth. It's a perfect bedtime read and it would make a fabulous gift for a child who is expecting a new sibling or close cousin. Read the review.
My Family, Your Family by Kathryn Cole & Cornelia Li – Your family or my family, whatever it's like, it's the perfect fit. The only tradition that matters in these families is that they love each other. Review coming soon.
My Friends & Me by Stephanie Stansbie & Katy Halford – Jamie lives with his grandparents and he thinks they are the coolest grown-ups he knows. He has lots of friends and he loves the fact that each of them has a different family set up, because it makes playing with them so interesting. Read the review.
The Girl With Two Dads by Mel Elliott – Matilda is a new girl at Pearl's school, but there's something really different and cool about her family – she has TWO dads! Read the review.
In Every House in Every Street by Jess Hitchman & Lili La Baleine – This gorgeous book celebrates the love, warmth and mayhem of a family home. The story follows a family of four as they take us on a tour of each of the rooms in their house. Read the review.
Mommy, Mama and Me by Leslea Newman & Carol Thompson – This lovely board book shows a day in the life of a toddler who has two mummies. Review coming soon.
Robo-Babies by Laura Gallagher & Nicci Martin – A book that celebrates all the ways babies come into families, adoption, surrogacy, IVF, donation, fertility, premature babies, twins and triplets. Review coming soon.
Sisters by Harriet Evans & Andrés Landazábal – This gorgeous little hardback book celebrates the joy of having a sister. The gentle rhyme takes us on a journey through siblinghood, highlighting all of the ups and downs. Read the review.
Stella Brings the Family by Miriam B. Schiffer & Holly Clifton-Brown – Stella has two dads. This has never been an issue but when her teacher announces they're going to be throwing a special Mother's Day party she finds herself in a bit of a pickle. Read the review.
That's My Daddy by Ruth Redford & Dan Taylor – This diverse and inclusive picture book encourages children to think about all the things which makes their dad unique. Read the review.
We Are Family by Patricia Hegarty & Ryan Wheatcroft – The lovely rhyme explores the concept of family, showing how they are there for each other in good times and bad. You see daytime routines, hospital visits, holidays, little household disasters and most importantly, love. Read the review.
When Grandma Gives You A Lemon Tree  by Jamie L. B. Deenihan & Lorraine Rocha – When life gives you lemons, you make lemonade. But what do you do when your Grandma gives you a lemon tree for your birthday and you'd secretly been hoping for a drone or a remote control car? Read the review.
When Grandpa Gives You A Toolbox by Jamie L. B. Deenihan & Lorraine Rocha – This is a heartwarming story about the bond between kids and their grandparents and it also gives a valuable lesson about what's really important in life. Review coming soon.
Where Happiness Lives by Barry Timms & Greg Abbott – Most of us are guilty of wanting more than we need and this heartwarming story really puts that in to perspective. It teaches children that love and family are more important than material things. Read the review.
You're Safe With Me by Chitra Soundar & Poonam Mistry – When night falls in the Indian forest it is time for the baby animals to go to sleep. However on this particular evening a storm is brewing and the noises make the little ones afraid. Fortunately their monthers are there to calm their fears. Read the review.
Looking for even more books about families? Click here: https://ivyslibrary.com/index.php/category/family/