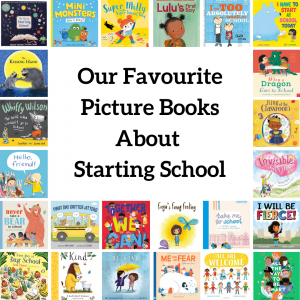 Ivy starts reception in September so in recent months we have amassed a lot of books to help prepare her for this exciting (and potentially nerve-wracking!) experience.
There are hundreds of books out there about this topic so I have put together a collection of our 24 favourites to help you choose the ones which are best suited to your own child.
Along with books which are specifically about the school experience, I have included titles which focus on other helpful topics like making friends, showing kindness and helping to ease any worries they may have.
We'd love to hear about your favourites too. What would you add to this list?
All Are Welcome by Alexandra Penfold & Suzanne Kaufman – This is a fantastic book about diversity and inclusion in the classroom. Each of the 30 children is different and we see those differences celebrated throughout. Read the Review.
All the Ways to be Smart by Davina Bell & Allison Colpoys – This gorgeous book takes a close look at what it means to be smart. Does it mean being good with letters and numbers and getting top marks at school – or could it be so much more than that? Read the Review.
Be Kind by Pat Zietlow Miller & Jen Hill – This beautifully-illustrated book is the perfect conversation starter if you want to discuss kindness with your child. It shows the many ways in which small acts can change people's day and maybe even one day change the world. Read the Review.
First Day at Bug School by Sam Lloyd – This lovely rhyming story introduces children to all the key elements of the school day in a fun and non-threatening way. The illustrations are fantastic and there are lots of cheeky little details to spot. Read the Review.
First Day Critter Jitters by Jory John & Liz Climo – We love this warm and funny book which zooms in on specific worries which your child might have about starting school. It shows kids that feeling anxious is completely normal and that they won't be the only ones with butterflies in their tummy on that first day. Read the Review.
Freya's Funny Feeling by Samia Quudus & Rahima Gegum – Little Freya is very excited about the fact she's becoming a big girl, but she soon discovers that growing up means dealing with new emotions and feelings. Normally bouncy and confident, she starts to experience an odd nervous flutter in her tummy which she doesn't understand.  Read the Review.
Hello, Friend! by Rebecca Cobb – When a child starts nursery, pre-school or reception they'll inevitably go through the process of navigating new friendships. This beautifully-illustrated book follows a child's journey to securing a new friend. Read the Review.
I Am Too Absolutely Small For School by Lauren Child – If your child is nervous about starting school then this reassuring story might be just the thing you're looking for – especially if they are fans of the Charlie and Lola cartoon. Read the Review.
I Have to Start at School Today by Simon Philip & Ged Adamson – The little girl in this story is very nervous of starting school. She has no idea what to expect so her imagination is going wild! Funny, comforting and fantastic for reading aloud. Read the Review.
The Invisible String by Patrice Karst & Joanne Lew-Vriethoff – This wonderful picture book teaches children about the unbreakable bond we have with the people closest to us, whether they are near or far. Read the Review.
I Will Be Fierce by Bea Birdsong & Nidhi Chanani – This is a wonderful book which touches on key themes like courage, friendship and the importance of self-belief. The school setting makes it ideal for a child who is nervous about starting school or switching to a new one. Read the Review.
Kind by Alison Gree & 38 Kind Illustrators – The tiniest little things can turn someone's whole day around and they cost you absolutely nothing – a smile, a hug, a hand to hold. This book asks children to think about what they can do to help those around them.  Read the Review.
The King of the Classroom by Derrick Barnes & Vanessa Brantley-Newton – Lots of books about starting school focus on the specific worries which your child might have about their big day. This fabulous book reframes those fears and the result is a story which fizzes with positivity and fun. Read the Review.
The Kissing Hand by Audrey Penn, Ruth E. Harper & Nancy M. Leak – First published in 1993, this is a beautiful story designed to comfort those who are anxious about being separated from their loved ones. Read the Review.
Lulu's First Day by Anna McQuinn & Rosalind Beardshaw – It's Lulu's first day at pre-school and she's feeling both excited and nervous. Follow her on her journey as she experiences (and enjoys!) lots of new things. Review Coming Soon.
Me and My Fear by Francesca Sanna – The book is about a little girl who has moved to a new country and is starting a new school. She has always lived with fear, who is depicted as a little ghost-like creature who goes everywhere with her – but the prospect of this new school causes her fear to grow so large that it takes up more space than she does. Read the Review.
Mini Monsters: Can I Play? by Caryl Hart & Tony Neal – This brightly coloured picture book is perfect for children who are just starting school, pre-school or nursery because it teaches a valuable lesson about friendship, saying sorry and learning to get along with others. Read the Review.
Never Take A Bear To School by Mark Sperring & Britta Teckentrup – There is one big rule when it comes to school – Do Not Take Your Bear. Why? Because bears just aren't designed for the classroom! They cause panic in the playground, they're far too big for the chairs and they gobble up all the food at lunchtime. Read the Review.
Super Milly and the Super School Day by Stephanie Clarkson & Glen Millward – Milly is really excited about the fact it's Superhero Day at school. She doesn't actually have super powers though – or does she? Maybe her super-kindness will help save the day! Review Coming Soon.
The Tale of Starting School by Natalie Talisman & Kirsten Taylor – Part primer and part scrapbook, this beautiful book takes you and your child on a journey through a big moment in both of your lives. Read the Review.
Take Me To School by Mary Richards – Split in to five 'adventures' this book gives you and your child the opportunity to record their very special school journey. Each adventure breaks down different aspects of the school day and is filled with fun facts and questions for childen to consider. Read the Review.
Together We Can by Caryl Hart & Ali Pye – Since Ivy started nursery last year we have had lots of conversations about friendship, and this gorgeous book has helped pull all of those strands together. Read the Review.
When A Dragon Goes To School by Caryl Hart & Rosalind Beardshaw – This funny story gently prepares children for how they should behave in the classroom and shows them that school is fun and not something they need to worry about. Read the Review.
Whiffy Wilson: The Wolf Who Wouldn't go to School by Caryl Hart & Leonie Lord – Whiffy is a little wolf who refuses to go to school. He doesn't want to sit in a boring old classroom and learn his ABCs. He'd much rather stay at home and watch TV because that's much more fun – or is it? Read the Review.